Recent news
LIVED COHERENCE: THE POETRY OF TESSA RANSFORD by A.C.Clarke
link
.
A review by Tessa was published in Translation & Literature, Vol 24, issue 3, Nov 2015.
link
.
Tessa died in September 2015 after having been diagnosed with cancer earlier in the year.
An extensive archive of Tessa's writings and manuscripts including her unpublished autobiography is held by the National Library of Scotland in Edinburgh
Obituary by Magnus Linklater in The Times:
link
.
Obituary by Tom Hubbard in The Herald:
link
.
Tribute to Tessa's Indian self by Professor Bashabi Fraser:
link
.
---
Review by Alan Taylor in the
Scottish Review of Books
:
For The Love Of Poetry
Review by Lauren Pyott in the
The Bottle Imp
:
Review of Rug of a Thousand Colours
Review by Anikó Szilágyi of
The University of Glasgow
:
Review of Rug of a Thousand Colours
Review by Tom Pow in the
Scottish Review of Books
:
The intimacy of place
An interview with Tessa:
Interview
Poems and images from
Made in Edinburgh
:
Poems and images
---
Broderie Écosssaise - as a figure of eight.

A pattern of little chats (kittens!) from my time of being more or less dependent on others.

Available from the Edinburgh Peace and Justice Centre at the West End of Princes St., Edinburgh for a donation.
---
Tessa's new book is A Good Cause, published by Luath Press, Edinburgh : £7.99

A GOOD CAUSE

I have devoted myself to the cause of The People.
It is a good cause - it shall ultimately prevail - it shall finally triumph.
- Thomas Muir in the Court of Judiciary, 30 August 1973

This new collection of work from Tessa Ransford is marked out by an authentic and unique voice, honed through a lifetime of dedication to her art. The cover photograph shows the author in 1981 when she founded the School of Poets in Edinburgh.

Tessa Ranford's poetry is characterised by flexibility and lucidity - Tom Pow

The Shortest Day

What am I but another bearer
a swan, a voice with Macalister chords
born in the Asian dust
an ambassador hidden in Scotland
from here, from nowhere to wherever
the world -
words, works, bonded and winged?
---
Tessa's recent book - Made in Edinburgh, published by Luath Press, Edinburgh - is poems inspired by Arthur's Seat and Holyrood Park in Edinburgh enhanced by photographs by her neighbour Michael Knowles who also lives beside the park.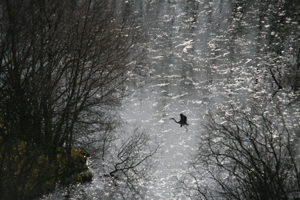 It also includes her new poems 'Merlin' and 'Dragons of Climate Change'.

Here is a poem from the book and the introduction to the winter section:

The hill and the park in winter are clear and cold. Black and white pre-dominate. Moon and stars,
the winter sun in frost, fog and snow, and fiery sunsets are a continual delight.
Somehow the winter experience is almost secretly and personally ours. We live here.



---
Alison Prince has reviewed two of Tessa's recent books: Review.
Tessa's two-way translation project with Palestinian poet Iyad Hayatleh, who lives in Glasgow, was launched on 8 September 2012 at the Scottish Poetry Library. Published by Luath, Rug of a Thousand Colours is unique in being bilingual English and Arabic poetry. Inspired by the Five Pillars of Islam, it represents a conversation between the poets, and their languages and cultures. As each poet translates the other, unpredictable but revealing symmetries begin to emerge.
A review of Rug of a Thousand Colours is available here: Dundee University Review Of The Arts,
With a foreword by David Finkelstein and an afterword by Carole Hillenbrand, this collection can be seen as a new contribution to the publication of literary translation in Scotland.
Copies of Rug of a Thousand Colours are available from all good bookshops and from:
Luath Press, Castlehill, Edinburgh, EH1 2ND
Email: [email protected]
£8.99
ISBN 1908373245
Tessa Ransford's don't mention this to anyone, a collection of poems featuring India and Pakistan with biographical excerpts, and Urdu calligraphy by Jila Peacock has now been published by Luath and is available from them or through bookshops. Please contact Luath for dates of readings and information about both these new books.
New on this website is a facility for reading any of Tessa Ransford's previously published poems on line. Please click on the link above: 'Poems from previous collections'. You will be taken to book titles and can then proceed to the poems in each book under that title.
Not Just Moonshine, new and selected poems
Luath Press, Castlehill, Edinburgh, EH1 2ND
Email: [email protected]
Price : £12.99
ISBN 1906307776
This book, a selection of Tessa's poems over four decades was published in August 2008 in time for a reading at the Edinburgh International Book Festival.
A review that appeared in the Scottish Review of Books in November 2008 can be viewed here (PDF) : Review
The book's cover can be viewed here : Not Just Moonshine
Interviews with Tessa Ransford
The Reading Room : Ryan Van Winkle chats with Tessa Ransford, founding director of the Scottish Poetry Library. In part one, they discuss the founding of the Library and Tessa's own memories of the Edinburgh poetry scene including Norman MacCaig. In part two Tessa talks about the early days of the library, the opening event in 1984 and its role in the invention of Vegetarian Haggis, the Iain Crichton Smith poem which inspired the new building and we get to hear a few of her poems.
Note : these two links are very large (25 mB) files.
A published interview with Tessa appears in World Literature Today, a journal from Oklahoma, March-April issue 2010. www.worldliteraturetoday.com
A wide-ranging published interview with Tessa by Ruth O'Callaghan can be found in Markings 27 which can be read or purchased on line at www.markings.org.uk.
There is an interview in Fras publications No 3: Interviews with Scottish Writers (2007)
Reviews of Not Just Moonshine appeared in Northwords Now and The Eildon Tree: (PDF file with reviews of Not Just Moonshine.) 2010
Essays on Tessa Ransford
by A.C. Clarke is in Zed 2 0 no 2, autumn 2007
by Professor Richard Roberts is in Scottish Affairs no 64 Summer 2008, entitled 'Surrender without submission: Tessa Ransford, Somatic Sophia and the Daughters of Jepthah'
See also Markings 27
Audio
Audio file : Chanticleer a setting of Tessa's poem Chanticleer (from 'Not Just Moonshine') by singer-songwriter Toby Mottershead.
MP3 recordings of Tessa Ransford:
LINK to 'Alarming Times'.
LINK to 'Goldilocks Principle'.
LINK 'Magic' (english).
LINK 'Magic' (german).